About Ikaria & Raches
IKARIA
Ikaria is one of the largest Eastern Aegean islands with an area of ​​approximately 270 km2, and a coastline of 160 km. It is located east of Mykonos and west of Samos, which is only 18 km away. Administratively, the island belongs to the Region of North Aegean and Agios Kirikos, its main town, is the siege of the Municipality of Ikaria. The population is estimated at 8,423 inhabitants.
Ikaria has an elongated shape in the direction of NE-SW. In general, it is a very mountainous island, with high altitudes and deeply carved terrain, while the landscapes are characterized by contrasts between barren rocky cliffs and smoother wooded slopes.
The backbone of the island is "Atheras" (or "Pramnos"), a long mountain ridge which divides the island into the northern and the southern part. The highest peaks of Atheras are "Melissa" (1031 m) to the west, and "Ephanos" (1041 m) to the east.
Ikaria is surrounded by the vast Icarian Sea which is often very stormy, while its coastline is steep, without bays and natural harbors. Due also to the absence of plains, the oldest and most characteristic settlements of the island are located far above sea level, anywhere arable land and water was found along the sides and inside the gorges of mt Atheras.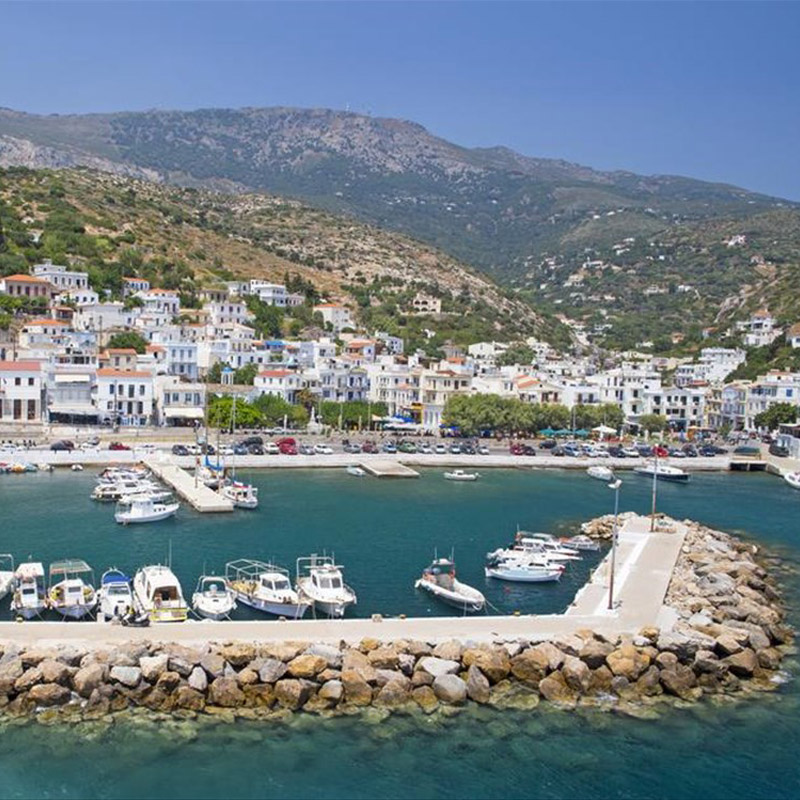 These factors contributed to the fact that Ikaria was historically one of the most isolated and poorest islands in the Aegean Sea and played an important role in shaping the character of the inhabitants and a distinct local culture based on self-sufficiency, solidarity and collectivity.
The climate of Ikaria, though generally mild, is characterized by rainy, cold winters and hot, dry summers. Due to the location of the island in the middle of the Aegean, sea breezes may often blow to gale force in all seasons.
Ikaria has lush vegetation, impressive biodiversity and large water supply. There is also an important number of protected natural areas, such as Ranti Forest, Chalares Canyon, Cape Papas, and others.
RACHES
Located in the NW of the island, the region of Raches is made up of many small settlements, the most important of which is Christos Rachon. Formerly being the center of a distinct municipality, today this town has only 360 inhabitants, however, because of the natural assets of the area and the proximity to the beautiful beaches "Nas", "Livadi" and "Messakti", many visitors are added to this number during summer months.
Christos Rachon is one of the most characteristic mountain villages of Ikaria in terms of natural environment, architecture, etc. It is built at an altitude of 424 meters, while its distance from Evdilos, the nearest port, is 17 km.
The neighborhoods of the village are many, although hardly seen, as they are hidden inside small valleys scattered around its center. In the square of Christos Rachon a visitor can find several shops, restaurants and cafes, a post office, rooms to let, etc.